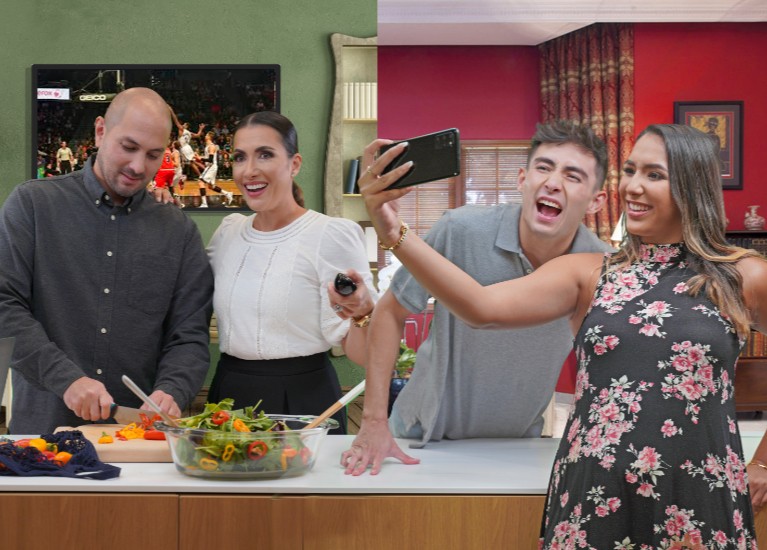 Custom Bundles from DOCOMO PACIFIC
Link up and save!
What is LINK?
Save money when you buy a great value Internet Plan plus at least one other service. Our LINK Bundles make it simple for you to choose just the services you want. Use the Product Selector below to add what you need and see how much you can save.
Choose as many services as you need - all at a great price when you select more than one service.
Please select your region
Why is this important?
We offer different packages to customers in Guam and CNMI to take into account differences in network capacity and customer demands in each region.
Home Phone discounts applicable to Trio and Quad bundles only.
Alternatively, give our friendly Customer Care team a call and they will be happy to assist.
DOCOMO PACIFIC Guam
+1.671.688.2273
DOCOMO PACIFIC CNMI
+1.670.488.2273
Outside Guam & Saipan
(Toll Free) +1.866.688.4826
Add more services to your bundle to start saving
You Pay
*
Some conditions and fees may apply.
Request for Contact
Thanks for your request. We'll call you back as soon as possible (usually the same day).
Channel Listing for dTV+ Basic
| Channel # | Network |
| --- | --- |
| 1 | TV-One(GU) |
| 2 | Weather Channel(GU) |
| 3 | EWTN |
| 5 | HSN |
| 6 | Sorensen FOX |
| 7 | Sorensen ABC |
| 8 | KUAM NBC |
| 9 | QVC |
| 10 | Classifieds(GU) |
| 11 | KUAM CBS |
| 12 | PBS Guam |
| 13 | Military Channel |
| 15 | Governor's Channel(GU) |
| 16 | Legislature Channel(GU) |
| 17 | C-SPAN |
| 18 | TBN |
| 19 | Hope Channel |
| 20 | BYU TV |
| 21 | Arirang |
| Channel # | Network |
| --- | --- |
| 1 | Weather Channel(CNMI) |
| 2 | KSPN2 News(CNMI) |
| 3 | EWTN |
| 4 | Saipan Visitors Channel(CNMI) |
| 5 | Chinese Visitors Channel(CNMI) |
| 6 | Sorensen FOX |
| 7 | Sorensen ABC |
| 8 | KUAM NBC |
| 10 | Classifieds(CNMI) |
| 11 | KUAM CBS |
| 12 | PBS Guam |
| 13 | Military Channel |
| 15 | Governor's Channel(CNMI) |
| 16 | Legislature Channel(CNMI) |
| 17 | C-SPAN |
| 18 | TBN |
| 19 | Hope Channel |
| 20 | BYU TV |
| 21 | Arirang |
| Channel # | Network |
| --- | --- |
| 1 | Weather Channel(CNMI) |
| 2 | KSPN2 News(CNMI) |
| 3 | EWTN |
| 4 | Saipan Visitors Channel(CNMI) |
| 5 | Chinese Visitors Channel(CNMI) |
| 6 | Sorensen FOX |
| 7 | Sorensen ABC |
| 8 | KUAM NBC |
| 9 | Classifieds(CNMI) |
| 10 | KUAM CBS |
| 11 | PBS Guam |
| 12 | Military Channel |
| 13 | Rota's Mayor's Channel(Rota) |
| 14 | Governor's Channel(CNMI) |
| 15 | Legislature Channel(CNMI) |
| 16 | C-SPAN |
| 17 | TBN |
| 18 | Hope Channel |
| 19 | BYU TV |
| 20 | Arirang |
Channel Listing for dTV+ Extended
| Channel # | Network |
| --- | --- |
| 100 | ESPN |
| 101 | ESPN2 |
| 107 | Fox Sports 1 |
| 108 | Golf Channel |
| 108 | NBC Sports |
| 200 | USA West |
| 201 | TBS |
| 202 | TNT |
| 203 | Bravo West |
| 204 | SyFy West |
| 206 | AMC West |
| 207 | A&E West |
| 208 | History Channel West |
| 209 | FX West |
| 210 | FXX West |
| 211 | Warner TV |
| 219 | TCM |
| 220 | E! West |
| 300 | Fox News Channel |
| 301 | Fox Business Network |
| 302 | MSNBC |
| 303 | CNBC |
| 306 | CNN |
| 307 | CNN Headline News |
| 308 | CNN International |
| 315 | Investigation Discovery West |
| 400 | Disney Channel West |
| 401 | Freeform West |
| 404 | Cartoon Network |
| 500 | HGTV West |
| 501 | Food Network West |
| 502 | Travel West |
| 503 | Lifetime West |
| 504 | Lifetime Movie West |
| 505 | OWN East |
| 506 | Oxygen West |
| 507 | TLC |
| 600 | Discovery |
| 601 | Animal Planet |
| 602 | National Geographic West |
| Channel # | Network |
| --- | --- |
| 100 | ESPN |
| 101 | ESPN2 |
| 107 | Fox Sports 1 |
| 108 | Golf Channel |
| 108 | NBC Sports |
| 200 | USA West |
| 201 | TBS |
| 202 | TNT |
| 203 | Bravo West |
| 204 | SyFy West |
| 206 | AMC West |
| 207 | A&E West |
| 208 | History Channel West |
| 209 | FX West |
| 210 | FXX West |
| 211 | Warner TV |
| 219 | TCM |
| 220 | E! West |
| 300 | Fox News Channel |
| 301 | Fox Business Network |
| 302 | MSNBC |
| 303 | CNBC |
| 306 | CNN |
| 307 | CNN Headline News |
| 308 | CNN International |
| 315 | Investigation Discovery West |
| 400 | Disney Channel West |
| 401 | Freeform West |
| 404 | Cartoon Network |
| 500 | HGTV West |
| 501 | Food Network West |
| 502 | Travel West |
| 503 | Lifetime West |
| 504 | Lifetime Movie West |
| 505 | OWN East |
| 506 | Oxygen West |
| 507 | TLC |
| 600 | Discovery |
| 601 | Animal Planet |
| 602 | National Geographic West |
| Channel # | Network |
| --- | --- |
| 100 | ESPN |
| 101 | ESPN2 |
| 107 | Fox Sports 1 |
| 108 | Golf Channel |
| 108 | NBC Sports |
| 200 | USA West |
| 201 | TBS |
| 202 | TNT |
| 203 | Bravo West |
| 204 | SyFy West |
| 206 | AMC West |
| 207 | A&E West |
| 208 | History Channel West |
| 209 | FX West |
| 210 | FXX West |
| 211 | Warner TV |
| 219 | TCM |
| 220 | E! West |
| 300 | Fox News Channel |
| 301 | Fox Business Network |
| 302 | MSNBC |
| 303 | CNBC |
| 306 | CNN |
| 307 | CNN Headline News |
| 308 | CNN International |
| 315 | Investigation Discovery West |
| 400 | Disney Channel West |
| 401 | Freeform West |
| 404 | Cartoon Network |
| 500 | HGTV West |
| 501 | Food Network West |
| 502 | Travel West |
| 503 | Lifetime West |
| 504 | Lifetime Movie West |
| 505 | OWN East |
| 506 | Oxygen West |
| 507 | TLC |
| 600 | Discovery |
| 601 | Animal Planet |
| 602 | National Geographic West |
Channel Listing for dTV+ Lifestyle & Music
| Channel # | Network |
| --- | --- |
| 212 | BBC America West |
| 221 | Grit |
| 222 | Bounce |
| 312 | RFD |
| 317 | Court TV Mystery |
| 409 | Laff |
| 508 | DIY |
| 509 | Cooking Channel |
| 510 | GAC |
| 700 | Hit List |
| 701 | Maximum Party |
| 702 | Dance Clubbin |
| 703 | Eclectic Electronic |
| 704 | The Chill Lounge |
| 705 | Hip Hop |
| 706 | Urban Beats |
| 707 | Soul Storm |
| 708 | Classic R&B Soul |
| 709 | Groove Disco and Funk |
| 710 | Gospel |
| 711 | Jammin |
| 712 | Rock |
| 713 | Heavy Metal |
| 714 | Rock Alternative |
| 715 | Adult Alternative |
| 716 | Americana |
| 717 | Classic Rock |
| 718 | Pop Adult |
| 719 | The Light |
| 720 | Easy Listening |
| 721 | Broadway |
| 722 | Holiday Hits |
| 723 | Jukebox Oldies |
| 724 | Kids Stuff |
| 725 | Y2k |
| 726 | Nothin But 90's |
| 727 | Everything 80's |
| 728 | Flashback 70's |
| 729 | ALT Rock Classics |
| 730 | Hot Country |
| 731 | No Fences |
| 732 | Bluegrass |
| 733 | Folk Roots |
| 734 | Country Classics |
| 735 | Latino Tropica |
| 736 | Today's Latin Pop |
| 737 | Latino Urbana |
| 738 | Retro Latino |
| 739 | Romance Latino |
| 740 | Rock En Espanol |
| 741 | Jazz Masters |
| 742 | Jazz Now |
| 743 | Smooth Jazz |
| 744 | The Blues |
| 745 | The Spa |
| 746 | Swinging Standards |
| 747 | Chamber Music |
| 748 | Classic Masters |
| 749 | Pop Classics |
| Channel # | Network |
| --- | --- |
| 212 | BBC America West |
| 221 | Grit |
| 222 | Bounce |
| 312 | RFD |
| 317 | Court TV Mystery |
| 409 | Laff |
| 508 | DIY |
| 509 | Cooking Channel |
| 510 | GAC |
| 700 | Hit List |
| 701 | Maximum Party |
| 702 | Dance Clubbin |
| 703 | Eclectic Electronic |
| 704 | The Chill Lounge |
| 705 | Hip Hop |
| 706 | Urban Beats |
| 707 | Soul Storm |
| 708 | Classic R&B Soul |
| 709 | Groove Disco and Funk |
| 710 | Gospel |
| 711 | Jammin |
| 712 | Rock |
| 713 | Heavy Metal |
| 714 | Rock Alternative |
| 715 | Adult Alternative |
| 716 | Americana |
| 717 | Classic Rock |
| 718 | Pop Adult |
| 719 | The Light |
| 720 | Easy Listening |
| 721 | Broadway |
| 722 | Holiday Hits |
| 723 | Jukebox Oldies |
| 724 | Kids Stuff |
| 725 | Y2k |
| 726 | Nothin But 90's |
| 727 | Everything 80's |
| 728 | Flashback 70's |
| 729 | ALT Rock Classics |
| 730 | Hot Country |
| 731 | No Fences |
| 732 | Bluegrass |
| 733 | Folk Roots |
| 734 | Country Classics |
| 735 | Latino Tropica |
| 736 | Today's Latin Pop |
| 737 | Latino Urbana |
| 738 | Retro Latino |
| 739 | Romance Latino |
| 740 | Rock En Espanol |
| 741 | Jazz Masters |
| 742 | Jazz Now |
| 743 | Smooth Jazz |
| 744 | The Blues |
| 745 | The Spa |
| 746 | Swinging Standards |
| 747 | Chamber Music |
| 748 | Classic Masters |
| 749 | Pop Classics |
| Channel # | Network |
| --- | --- |
| 212 | BBC America West |
| 221 | Grit |
| 222 | Bounce |
| 312 | RFD |
| 317 | Court TV Mystery |
| 409 | Laff |
| 508 | DIY |
| 509 | Cooking Channel |
| 510 | GAC |
| 700 | Hit List |
| 701 | Maximum Party |
| 702 | Dance Clubbin |
| 703 | Eclectic Electronic |
| 704 | The Chill Lounge |
| 705 | Hip Hop |
| 706 | Urban Beats |
| 707 | Soul Storm |
| 708 | Classic R&B Soul |
| 709 | Groove Disco and Funk |
| 710 | Gospel |
| 711 | Jammin |
| 712 | Rock |
| 713 | Heavy Metal |
| 714 | Rock Alternative |
| 715 | Adult Alternative |
| 716 | Americana |
| 717 | Classic Rock |
| 718 | Pop Adult |
| 719 | The Light |
| 720 | Easy Listening |
| 721 | Broadway |
| 722 | Holiday Hits |
| 723 | Jukebox Oldies |
| 724 | Kids Stuff |
| 725 | Y2k |
| 726 | Nothin But 90's |
| 727 | Everything 80's |
| 728 | Flashback 70's |
| 729 | ALT Rock Classics |
| 730 | Hot Country |
| 731 | No Fences |
| 732 | Bluegrass |
| 733 | Folk Roots |
| 734 | Country Classics |
| 735 | Latino Tropica |
| 736 | Today's Latin Pop |
| 737 | Latino Urbana |
| 738 | Retro Latino |
| 739 | Romance Latino |
| 740 | Rock En Espanol |
| 741 | Jazz Masters |
| 742 | Jazz Now |
| 743 | Smooth Jazz |
| 744 | The Blues |
| 745 | The Spa |
| 746 | Swinging Standards |
| 747 | Chamber Music |
| 748 | Classic Masters |
| 749 | Pop Classics |
Channel Listing for dTV+ Family
| Channel # | Network |
| --- | --- |
| 402 | Disney Jr. West |
| 403 | Disney XD |
| 405 | GSN West |
| 406 | Hallmark Channel West |
| 407 | Hallmark Movie & Mysteries |
| 408 | Up |
| 603 | Nat Geo Wild |
| Channel # | Network |
| --- | --- |
| 402 | Disney Jr. West |
| 403 | Disney XD |
| 405 | GSN West |
| 406 | Hallmark Channel West |
| 407 | Hallmark Movie & Mysteries |
| 408 | Up |
| 603 | Nat Geo Wild |
| Channel # | Network |
| --- | --- |
| 402 | Disney Jr. West |
| 403 | Disney XD |
| 405 | GSN West |
| 406 | Hallmark Channel West |
| 407 | Hallmark Movie & Mysteries |
| 408 | Up |
| 603 | Nat Geo Wild |
Channel Listing for dTV+ Sports & Information
| Channel # | Network |
| --- | --- |
| 102 | ESPNews |
| 103 | ESPNU |
| 104 | SEC Network |
| 105 | SEC Network Overflow |
| 106 | ESPN Classic |
| 110 | NFL Network |
| 111 | Fox Sports 2 |
| 112 | Big Ten Network Alt |
| 113 | Big Ten Overflow |
| 119 | NBA TV |
| 134 | Motor Trend |
| 304 | CNBC World |
| 305 | Bloomberg |
| 309 | BBC World News |
| 310 | Crime and Investigation |
| 311 | Military History Channel |
| 313 | FYI West |
| 314 | Viceland |
| 316 | Court TV |
| Channel # | Network |
| --- | --- |
| 102 | ESPNews |
| 103 | ESPNU |
| 104 | SEC Network |
| 105 | SEC Network Overflow |
| 106 | ESPN Classic |
| 110 | NFL Network |
| 111 | Fox Sports 2 |
| 112 | Big Ten Network Alt |
| 113 | Big Ten Overflow |
| 119 | NBA TV |
| 134 | Motor Trend |
| 304 | CNBC World |
| 305 | Bloomberg |
| 309 | BBC World News |
| 310 | Crime and Investigation |
| 311 | Military History Channel |
| 313 | FYI West |
| 314 | Viceland |
| 316 | Court TV |
| Channel # | Network |
| --- | --- |
| 102 | ESPNews |
| 103 | ESPNU |
| 104 | SEC Network |
| 105 | SEC Network Overflow |
| 106 | ESPN Classic |
| 110 | NFL Network |
| 111 | Fox Sports 2 |
| 112 | Big Ten Network Alt |
| 113 | Big Ten Overflow |
| 119 | NBA TV |
| 134 | Motor Trend |
| 304 | CNBC World |
| 305 | Bloomberg |
| 309 | BBC World News |
| 310 | Crime and Investigation |
| 311 | Military History Channel |
| 313 | FYI West |
| 314 | Viceland |
| 316 | Court TV |
Channel Listing for dTV+ Entertainment
| Channel # | Network |
| --- | --- |
| 213 | ION National |
| 214 | Hallmark Drama |
| 215 | Fox Movie Channel |
| 216 | MGM |
| 217 | IFC |
| 218 | Sundance |
| 511 | WeTV |
| Channel # | Network |
| --- | --- |
| 213 | ION National |
| 214 | Hallmark Drama |
| 215 | Fox Movie Channel |
| 216 | MGM |
| 217 | IFC |
| 218 | Sundance |
| 511 | WeTV |
| Channel # | Network |
| --- | --- |
| 213 | ION National |
| 214 | Hallmark Drama |
| 215 | Fox Movie Channel |
| 216 | MGM |
| 217 | IFC |
| 218 | Sundance |
| 511 | WeTV |
Channel Listing for dTV+ Sports+
| Channel # | Network |
| --- | --- |
| 114 | Pac12 Network |
| 115 | Longhorn Network |
| 116 | Fox College Sports Atlantic |
| 117 | Fox College Sports Central |
| 118 | Fox College Sports Pacific |
| 130 | Outdoor Channel |
| 131 | Sportsman Channel |
| 132 | World Fishing Network |
| 133 | MavTV |
| Channel # | Network |
| --- | --- |
| 114 | Pac12 Network |
| 115 | Longhorn Network |
| 116 | Fox College Sports Atlantic |
| 117 | Fox College Sports Central |
| 118 | Fox College Sports Pacific |
| 130 | Outdoor Channel |
| 131 | Sportsman Channel |
| 132 | World Fishing Network |
| 133 | MavTV |
| Channel # | Network |
| --- | --- |
| 114 | Pac12 Network |
| 115 | Longhorn Network |
| 116 | Fox College Sports Atlantic |
| 117 | Fox College Sports Central |
| 118 | Fox College Sports Pacific |
| 130 | Outdoor Channel |
| 131 | Sportsman Channel |
| 132 | World Fishing Network |
| 133 | MavTV |