Network Coverage
DOCOMO PACIFIC is the clear industry leader, 13 years in a row. We continue to transform the landscape in how Guam, Saipan, Tinian, and Rota connect and communicate with the rest of the world.
As many may be familiar with our story, DOCOMO PACIFIC was originally a merger of Guamcell Communications and HafaTel prior to the acquisition by NTT DOCOMO in December 2006. This acquisition allowed NTT DOCOMO the opportunity to share its world-leading technology with the region as evidenced by significant investments and upgrades in DOCOMO PACIFIC. Today, DOCOMO PACIFIC offers the largest cell site coverage on Guam and the widest and fastest LTE network in the Marianas.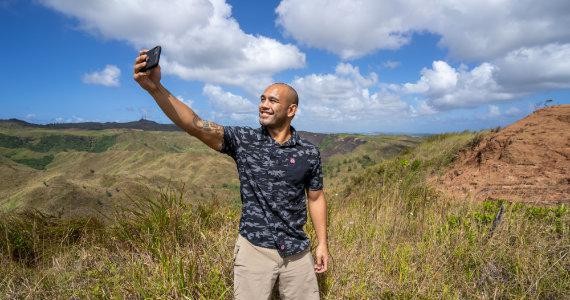 Fast and Reliable Speeds and First to 5G
In October 2008, DOCOMO PACIFIC was the first on Guam to introduce the fastest 3G network. In 2010, NTT DOCOMO launched 4G services in Japan and two years later, launched in Guam in 2012. In 2017, DOCOMO PACIFIC introduced the Marianas' first triple-digit online speeds, increasing our fastest speeds from 75 Mbps to 120 Mbps.
Today, DOCOMO PACIFIC is Guam's fastest and most reliable network, based on Global Wireless Solution's (GWS) 2019 OneScore ranking. As a leader in technology, we are proud to announce that we are the only service provider offering Mobile 5G in the Marianas; bringing speeds of up to 250 mbps download/15 mbps upload. Whether it's how you conduct business to how you stream, download and upload videos, DOCOMO PACIFIC keeps its promise to being at the forefront of changing the way our customers live, work, and play.
Coverage Checker
Find the latest network information, check out mobile coverage in your area
and tell us about any coverage issues you're experiencing.
Check coverage
Transforming your TV Experience
When it comes to entertainment, DOCOMO PACIFIC's got you and your family covered — from kids programming to sports, local & world news, popular TV series, access to Pay-Per-View and Vu-It! On Demand services.
In 2017, DOCOMO PACIFIC transformed your television viewing experience by introducing TiVo — the award-winning television entertainment system. TiVo "makes TV better" and maximizes your traditional cable TV service by unifying your cable TV content with video streaming services such as Netflix, Hulu, and YouTube.DOCOMO PACIFIC is the first and ONLY provider of TiVo services in Guam and the CNMI.
One Marianas
In June 2017, DOCOMO PACIFIC completed the construction of the 183-mile ATISA submarine fiber optic cable system connecting Guam to the Northern Mariana Islands. This was first new undersea cable in nearly twenty years in the CNMI. ATISA made it possible for the people of the CNMI to experience the same world-class products and services already available to customers in Guam. DOCOMO PACIFIC invested over $16 million for the cable itself and an additional $9 million to modernize and expand the CNMI fixed and mobile networks.
DOCOMO PACIFIC's commitment to the Marianas is unwavering — whether it's through community outreach or in times of need after a natural disaster. In October 2018, through a collective effort, DOCOMO PACIFIC helped contribute more than $8-million worth of services and donations to families affected by Super Typhoon Yutu.
Immediately following the typhoon, DOCOMO PACIFIC pledged its full support to the recovery process by offering free phone services.
Investments continue to be made in Guam and the CNMI to advance our network, expand our coverage, improve reliability and speed across the Marianas, DOCOMO PACIFIC continues to investment in its network to expand coverage, improve reliability and speed, and meet the needs of our customers.
First to 5G
The journey to 5G starts with DOCOMO PACIFIC. Get ready to transform your augmented and virtual reality when it comes to gaming, education, manufacturing, telemedicine and beyond — all with 5G.
In March 2019, NTT DOCOMO and DOCOMO PACIFIC took the first steps to bringing the future of 5G to Guam with the opening of DOCOMO 5G Open Lab Guam — the first 5G test lab and verification center outside of Japan and the first for Guam.
The new facility will provide a 5G trial environment for over 1,600 local and international businesses and organizations included in the DOCOMO 5G Open Partner Program.
5G will bring ultra-high speeds, ultra-low latency and the ability to connect a massive amount of devices. The next generation of wireless is coming to DOCOMO PACIFIC soon.
Award-Winning Services
With the largest total customer base in Guam, for four consecutive years, DOCOMO PACIFIC had the honor of winning:
Top GWS OneScore ranking for speed and for reliability amongst Guam wireless carriers in 2019.

Pika's Best of Guam for Best in Mobile, Cable, and Internet Services in 2016, 2017, 2018, and 2019. The nomination and awarding for Pika's Best of Guam is strictly online voter based, with hundreds of thousands of votes garnered over a period of time.
Pacific Stars and Stripes Best of the Pacific in 2014, 2016, 2018, and 2020 for Best Cellphone Service Provider.

Get in Touch
Docomo Pacific Guam+1.671.688.2273

Docomo Pacific CNMI+1.670.488.2273

Outside Guam & Saipan(Toll Free) +1.866.688.4826
Contact Us