Get a Great Deal for Your Family
Home, work, school & all the activities that keep you busy – staying connected with friends and family is a daily priority. That's why we've invested in the fastest internet connection on Guam and the widest mobile network across the Marianas. You can also find deals on mobile, TV and internet that are tailor-made for you and your family. Check out our family deals below, and be sure to visit our friendly, knowledgeable staff in-store.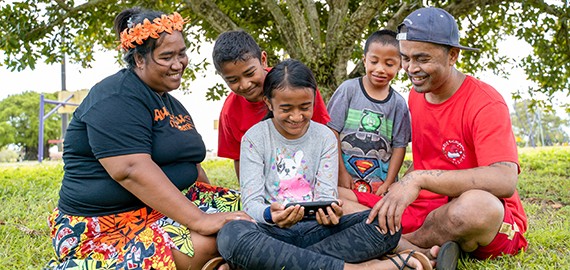 Deals for Families
MyFamily
80 GB
of data to share
Total 3 Mobile Line
Unlimited Local Voice & SMS
Basic
50+
of your favorite channels
ABC, CBS, FOX, NBC, plus local & world news, sport and more!
Value
3-5
connected devices at a time
Download speed: 20 Mbps
Upload speed: 1 Mbsp
More Benefits
eBox

Experience TV like never before in all your rooms


*$9.99 per eBOX/mo

100Mbps

Upgrade Available

Experience the island's fastest Online service


ONE Me & ONE We + $65/mo
ONE Family + $40/mo

myData+

View, manage, and share data across your devices
Available on ONE We, ONE Family, and ONE Family+

Service rates and features listed apply to Residential local services only. Installation fee, Activation Fees and Security Deposits may be required. Your monthly bill of service may have Federal Communications Commission Charge (FCC), Universal Service Fund (USF) Fees, Local Number Portability (LNP) and/or E-911 fees added as separate line items. E-911 will be charged per unit, in addition to your monthly rate for Voice, SMS and/or Data service. USF is a mandatory fee which is used to promote increased access to telecommunications services in the US. USF rates are set by the FCC and may change quarterly. USF is applicable to Local Voice, Local SMS and Toll Charges. Mobile data speeds reduced once monthly data threshold is reached. Room easy rates will apply based on usage and destination. Roam Easy rates do not apply to Data Only plans. Online services are subject to "Acceptable Use Policy". Advertised speeds are "up to" speeds and other factors may affect actual speed. Home Phone service is not a Lifeline service. Programming, service and rates are subject to change at any time. Service coverage may vary depending on geographical location and other factors. Please see Terms and Conditions and Mobile Fair Use policies available at Anchor Text for more details. Some conditions apply.
Order
We will call or email you within one (1) working day to complete your order.
Store Locator
Whether you're a new or existing customer, our dedicated staff can help.
Find a store
Call Us
DOCOMO PACIFIC Guam+1.671.688.2273

DOCOMO PACIFIC CNMI+1.670.488.2273